Consent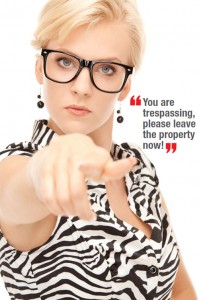 "Every man's home is his Castle."
In the High Court case of Plenty v Dillon,
"The house of everyone is to him as his castle and fortress, as well as for his defence against injury and violence, as for his repose."
Withdrawal of Consent and the importance of your trespass sign
Consent can be withdrawn to any specified person and entity by providing them with verbal or written notice or it can be withdrawn generally to exclude everyone. A Law in Action Trespass Sign will revoke the implied license or tacit consent for entry onto your land and provide you safety and security within your home. Any person who thereafter enters and remains on your property causes a loss of quiet enjoyment and is a trespasser liable to pay to the occupier or person in possession of land a significant damages award. This includes:
Door to Door Salespeople
Process Servers and Police.
Landowner or Tenant – It doesn't matter:
Tort law invokes the protection of possession of land rather than protection solely of ownership of land. Civil trespass to land invokes the preservation of rights and privileges of private property owners and persons who have a right to exclusive possession to land such as residential and commercial tenants.

When a trespass to land has occurred, you should immediately identify who the trespasser is and what they want when you first approach them. Always take care and ensure your safety and security is not compromised. You do not have to open your door. A useful guide as to how to approach trespassers can be found within the Law in Action information booklet.